A wedge of high pressure will usher in two very comfortable November days. Then, attention turns to a pair of low-pressure systems for Friday.
It will be a nice morning dropping off the kids to the bus stop, heading out the door for work, or coming home from work. Morning lows will sit around 50 degrees, aided by plenty of sunshine. We will capture just the edge of a massive high pressure, spanning from the Arctic Circle, down to the Great Plains and over to our area. As it continues to fill in, the sun will stay. Expect a high in the mid 60s with low humidity. You can let the breeze roll on in through the windows.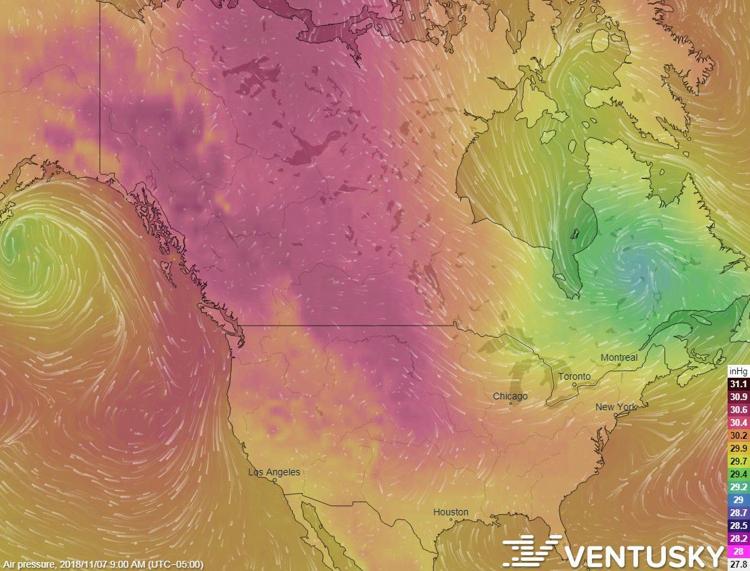 While high pressure remains in control, a small storm system will move off the coast of the Carolinas Wednesday night. Rain should miss us, but we will see cloud cover. We should be partly to mostly cloudy for most of the night. Either way, it will feel like autumn, with lows between 45 and 50 degrees.
Any clouds from Wednesday night will go away Thursday morning by 10 a.m.. Although sunny, northwest winds will make temperatures cooler, but still mild, hovering around 60.
Then, we'll have a repeat performance of last Friday. The combination of an approaching warm front and high pressure to the north will bring an easterly wind, which will build up the coastal waters. Minor flood stage will be a concern for the Friday morning high tide and perhaps the evening, too. 
Otherwise, a "double-barreled low" will likely be the case Friday. A double barreled is a cool name we give an upper-level low that builds down to the surface, while another surface low will already be in play. In this case, our low pressure already in play will ride near the coast. The other one will move up the Appalachian Mountains.
Our main weather driver will be the one offshore. It will look more like a washout. There will be dry time on Friday, with hit or miss morning showers. However, periods of rain will be the case on Friday, aiding by a strong southeast wind, sustained 15 to 20 mph. It will be a raw day, with highs in the mid 50s.
Both systems will then sweep out as the weekend kicks off. Saturday and Sunday will both be filled with sunshine, though Saturday will have a strong northwest wind.
The bigger story? The temperatures. Our first hard (sub 28 degrees) freeze will be likely Saturday night west of the Garden State Parkway, as Sunday's highs stay only in the 40s.