We continue the thunderous roar of March with rounds of coastal flooding and gusty winds on the way Wednesday afternoon. 
The following schools have announced delayed openings and closings for March 22 as a powerful Nor'easter continues to move through the region.
7:34 p.m.: Linda Gilmore, Public Information Officer for the Atlantic County government, has a message for all residents of the county.
"Motorists really need to allow extra time for travel and take it slow. The Atlantic City Expressway and Garden State Parkway were snow covered. Our crews will be working to push/remove snow and treat to help prevent slushy mix from freezing."
5:56 p.m: Our storm is really ramping up here across the region. The sun is going down, which will increase the impact this has, as the roads start to get covered with snow. The snow has become heavier.  Speaking of heavier snow, we had the pinnacle of nor'easters, thundersnow in Little Egg Harbor.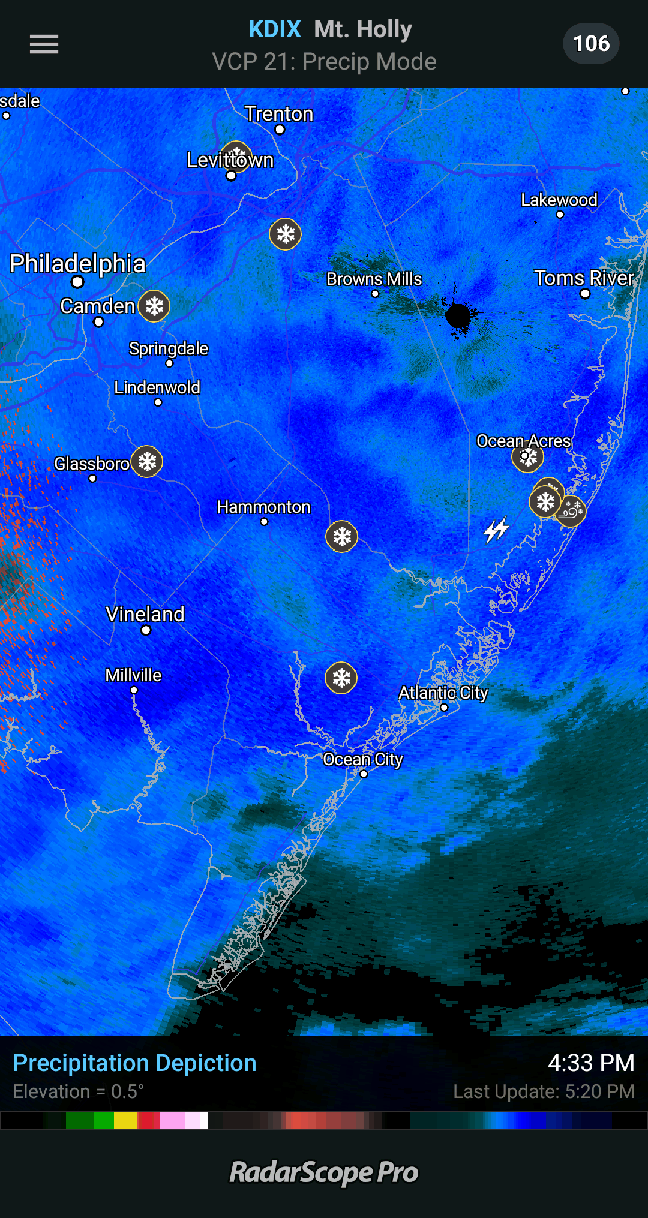 Snow fall totals have ranged from next to nothing near Cape May to 3.3 inches in Buena Vista Township. Here are some additional totals
0.1 inch - Our office (Pleasantville)
The snow has been the heavy, wet, hard to shovel kind of snow. Snowfall ratios, typically around 11 inches of snow to every inch of liquid, are more like 7:1 to 8:1. As a result, some residents of Cumberland and Atlantic counties are without power. 3,351 are without power in Cumberland County. In Atlantic County, the number is 1,609 people, included 46 percent of all buildings in Buena Vista Township.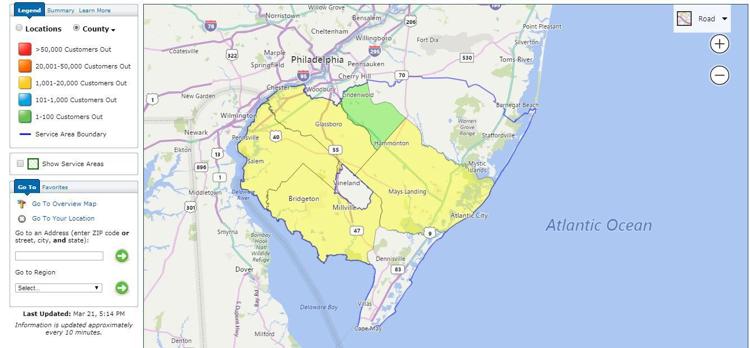 We still have plenty of more storm to go. The worst of the storm will be now through about 10 p.m. In this, snowfall rates of 1 to 2 inches per hour will fall. That is heavy snow and they will call issues. The low pressure system is strengthening offshore.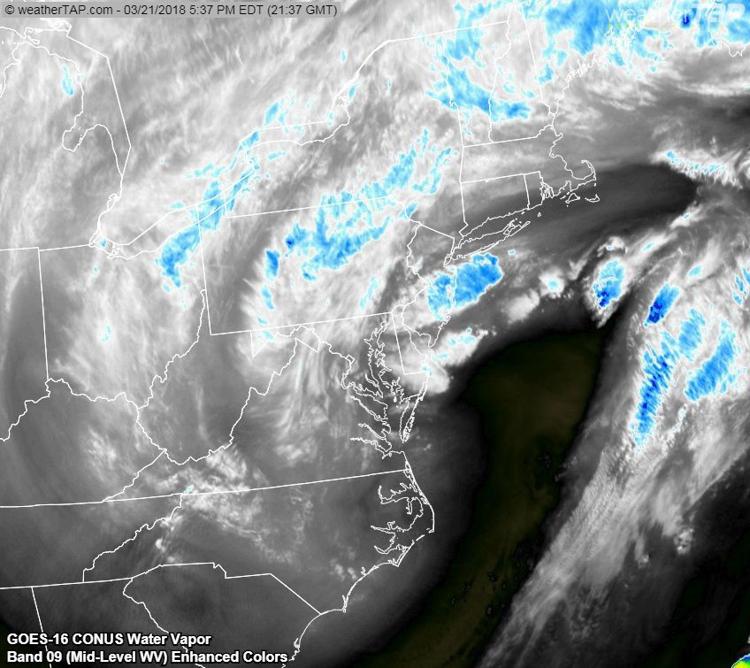 After 10 p.m. the snow will lighten up, but it will not end quickly. Here is when you can expect the last flakes, by county. 
Cape May: 12 a.m. to 3 a.m.
Cumberland: 12 a.m. to 3 a.m.
Atlantic: 1 a.m. to 4 a.m.
Do note we have one more round of coastal flooding to go. This will be the most impactful of the high tides we have and will have. Widespread moderate flood stage is anticipated. High tides will be between 10 p.m. to 12 a.m. Wednesday night. All towns will see some water on bayside road ways. In susceptible areas, water could flow in from the Atlantic (but this will be rare). Additionally, houses and structures not raised would start to have water innuudation if your street is.
We will have another Facebook Live at 7 p.m. to update you. 
4:45 p.m.: If you want to report what you're seeing out there, post them here. It still has not been accumulating much east of Hammonton to Vineland to Lawrence Township, but as the sun goes down, it will. 
4:42 p.m.: Some new snowfall totals are in across the area. 
Quick caravan of salt trucks and plows headed down Route 322/ Black Horse Pike as snow starts coming down in western Atlantic County pic.twitter.com/DJ2lfWnOAY

— Lauren Carroll (@ACPress_LC) March 21, 2018
1:22 p.m.: If you're in eastern Atlantic, southern Ocean or Cape May counties and wondering where the snow is at, just be patient. The only reason these areas are not snowing is because the precipitation is light. When it's light, it can't cool down enough to create snow. It's 35-36 in the rain vs. 32-33 in the snow.
Rain will flip to snow to everywhere except for places south of Dennis Township by 2 p.m. Everywhere else will have it by 3 p.m.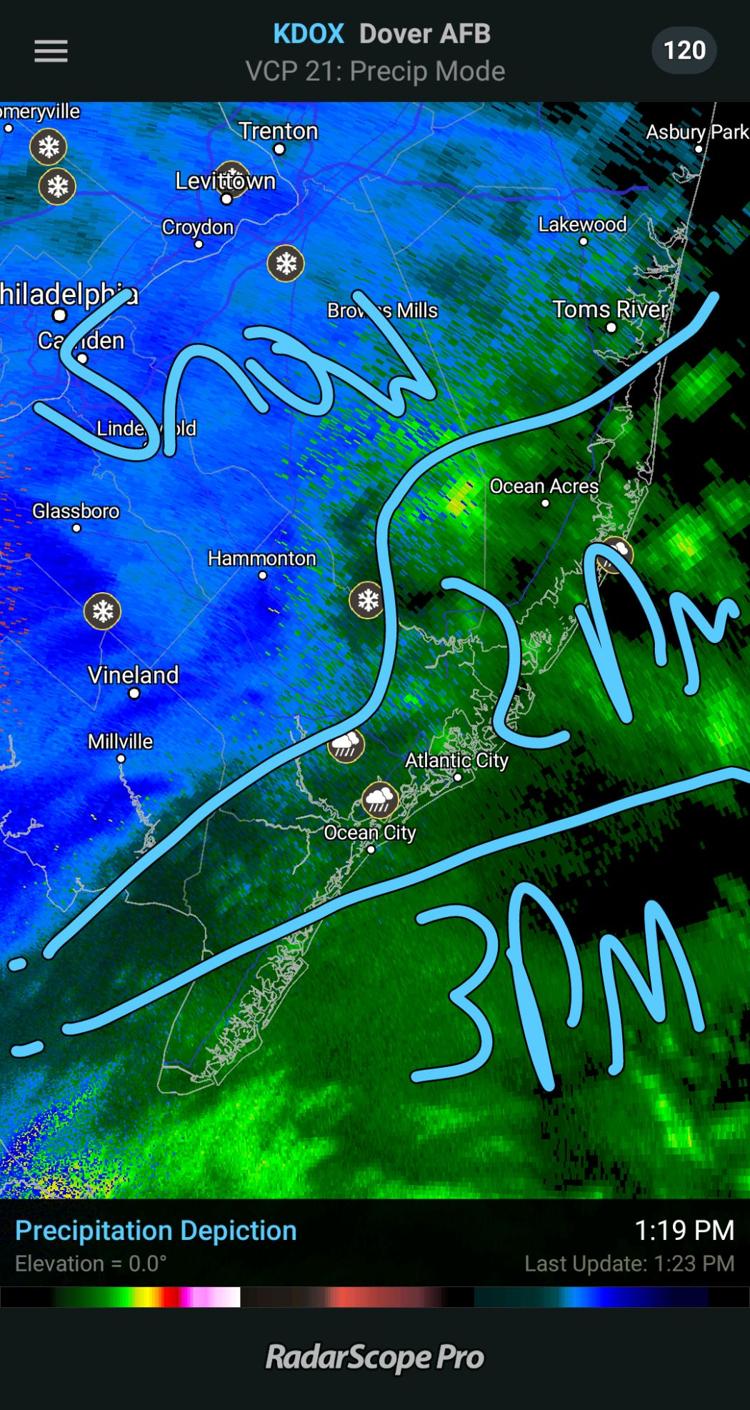 1:00 p.m.: Flood waters have peaked across South Jersey, the second high tide cycle over normal sea level with this storm. Thankfully, it was only minor flood stage. Most places are doing OK. However, some roads had to be closed, like the Black Horse Pike in West Atlantic City.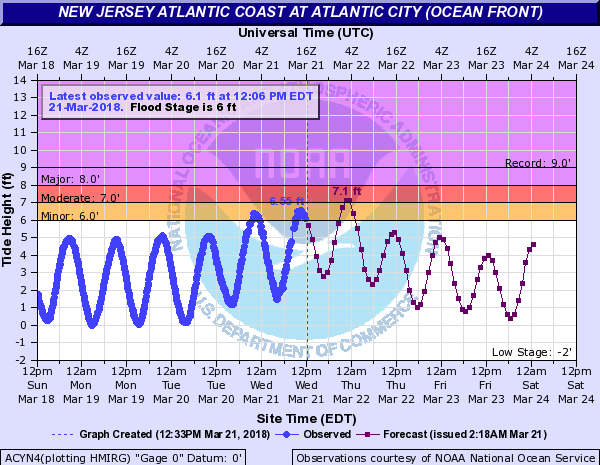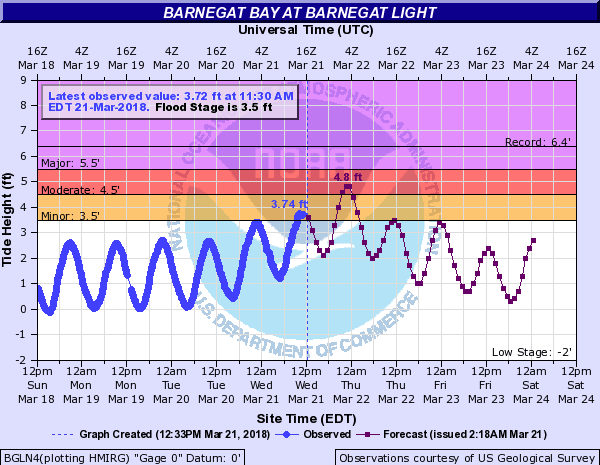 11:30 a.m.: Atlantic City Police tweeted Wednesday morning that the Black Horse Pike in West Atlantic City is closed due to flooding.
Tuesday's version of the nor'easter brought rain, sprinkled in with sleet and freezing rain. Wednesday's version, will continue the thunderous roar of March. Up to 9 inches of snow, rounds of coastal flooding and gusty winds are on the way. 
To quickly recap Tuesday, a mix of rain and sleet began between 6 a.m. to 11 a.m. from south to north.  A mix of rain and sleet (more rain at the shore and Cape May County) then continued throughout the day. A little freezing rain fell toward the I-95 corridor.
The main event will be Wednesday, though. Below, I broke down what we will see, category by category. This way, you can focus on what you need to do. 
Plan on messy commutes. A wintry mix of sleet and rain will fall early Wednesday morning. The further inland you are, the more sleet. The closer to the coast, the more mix. It will be light, as the first low pressure system moves out to sea and the second one rides in. 
As the second system strengthens, it will turn that rain and sleet into all snow, dragging in colder air from the west. This will occur as early as 9 a.m. in western Cumberland, to as late as 1 p.m. in Cape May. 
The snow will then continue for the rest of the day. Snow will be a wet, hard to shovel kind of snow, falling light to moderate at first. Then, support is increasing on a band of heavy snow to set up. Rates 1 to 2 inches per hour will have no problem sticking on roads and the p.m. commute will be dangerous. Do not travel during this time if you do not need to. 
Snow will be slow to taper off, ending around midnight Wednesday night. As temperatures fall below freezing, it will become icy in spots that are not treated for the Thursday morning commute.  
Millville to Egg Harbor City to Little Egg Harbor Township will see 5 to 9 inches. Long Beach Island, the rest of Mainland Atlantic County to eastern Cumberland County will see 2 to 4 inches. Most of Cape May County, Absecon Island and Brigantine will see between 1 and 2 inches. Do note it may very well be more than this. However, there will be a lot of melting.
Flooding will occur during both the morning and evening high tides. Moderate flood stage will be likely in most areas. This is more than just your run of the mill flooding. Places along the bay, even in well protected places (Long Beach Island) will see some water on bayside roads. The vulnerable spots will have it a few blocks inland.
In addition, moderate flood stage is when you start to see water inundate structures that have not been raised. 
Winds sustained 15 to 25 mph (30 mph) at the shore will occur on Wednesday. Gusts will top out at near 50 mph at the Jersey Shore, with 35-40 mph readings inland. This is typical for a nor'easter. There is a catch, though.
Given that we have had three nor'easters already. There are weakened tree limbs and power lines out there. In addition, with wet snow in the forecast, it is a recipe for problems throughout South Jersey. Both Atlantic City Electric and Vineland are extremely concerned about this and will be paying special attention to any issues.
Expect re-freeze in spots on Thursday morning. Temperatures will stay chilly but do warm up in the mid-40s under a mostly cloudy sky. There will be some melting. Friday should clean up much of this snow, though. There will be more sunshine, staying in the mid-40s. We then watch out for another system on Sunday. 
We will just get through this one first.