Phase 1 of our wintry system will push out early Sunday morning, passing the torch off to Phase 2.
A day's worth of snow is likely for some in our area, and not in the places we usually expect.
Emergency management officials are gearing up for a snowy Saturday night in South Jersey.
Our light to moderate snow event will continue as the sun comes up Sunday. The first phase of our storm, which was set to bring light snow to nearly everyone overnight, will exit the region early Sunday. From about sunrise on, the snow that will fall will be from a low-pressure system that will push off the North Carolina coast.
Cumberland County has been upgraded to a winter storm warning, as the rest of the region con…
We will be on the northern edge of enhanced lift Sunday morning and midday. This will be where the bulk of the accumulation will come from for many of us. Moderate snow will fall in Cape May and Cumberland counties, with rates of 0.5 to 1 inch per hour. Snow should be on the powdery side, except for near where it may mix.
The mixing scenario is still one to watch. The barrier islands in Cape May County, as well as the mainland south of Dennis Township, have the best potential to mix with rain and/or sleet. Regardless, you'll want to take it slowly out there driving and make sure to give enough room for any plows to come through.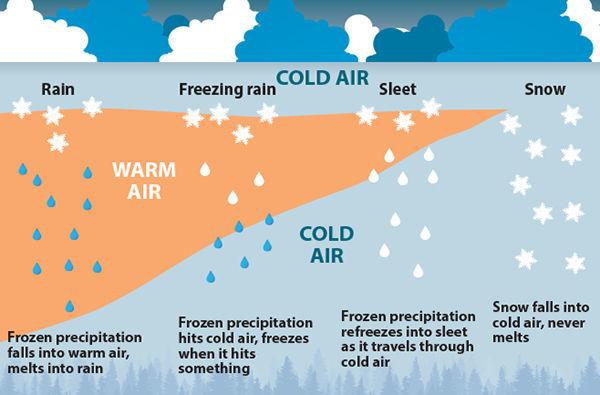 Snow will very gradually taper off during the afternoon. Stafford Township's snow could be over by 2 p.m. Most of Atlantic and Cumberland counties' snow will end in the hours surrounding sunset.
Cape May County snow, meanwhile, will end during the evening, perhaps not even until the Eagles are finished playing. A few flurries cannot be ruled out into the overnight.
Snow totals of 1 to 2 inches remain likely for Burlington and Ocean counties. Two to 4 inches are likely for everywhere else.
However, I do want to point out an area from around Upper Township down to Lower Township and then over into southern Cumberland county. That box likely has the perfect combination of lack of mixing and that lift I mentioned earlier to bring up to about 6 inches of snow.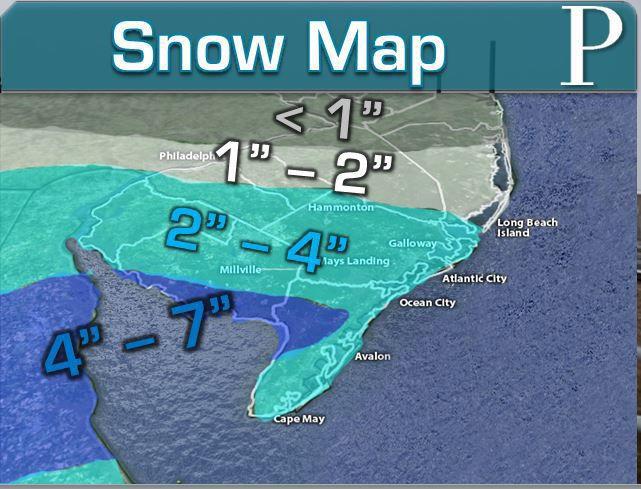 Salt your sidewalks and steps Sunday night. Low temperatures will fall into the low to mid 20s, creating re-freeze. Skies should be partly to mostly cloudy.
A Code Blue alert, intended to assist municipalities in protecting vulnerable citizens durin…
Monday will then give us a winter wonderland with a clearing sky. High temperatures will reach the upper 30s.
I don't remember exactly when it was, sometime during the holidays in 2017. I was still full…