Our third March nor'easter is gone. Besides a weak snow shower possibility for Wednesday afternoon, we are quiet, cool and calm through at least the weekend.
Snowfall totals on Tuesday topped out at 2 inches at Waretown in Ocean County. The rest of southern Ocean County saw 1 to 2 inches. Atlantic County saw between a coating and 1 inch, with Cape May and Cumberland counties seeing between patchy coatings and a half inch.
Rain changed to wet snow as gusty winds and pockets of coastal flooding brought a glancing b…
When you add up the rain and melted snow, that puts South Jersey in the No. 5 spot when it comes to the wettest March on record. Thankfully, we will not add to those totals much over the next six days.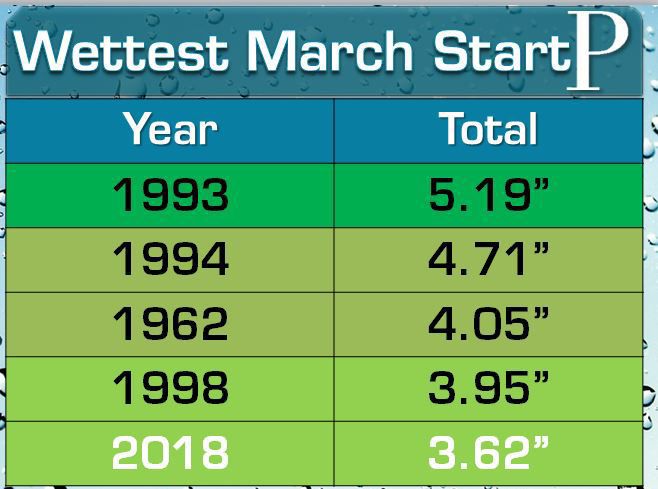 We will have plenty of morning sun, though chilly, with temperatures starting in the mid-20s to low 30s.
With full sun, we should be able to reach the mixed layer of the atmosphere with no problems. When the atmosphere is well mixed, winds from high aloft transfer down to the surface.
Therefore, it will be a windy day, with gusts in the 40s. This well-mixed layer will create an unstable atmosphere, only needing a trigger to set off rain or snow showers.
The trigger will come in the form of upper level energy, bringing a few snow squalls into New Jersey. Will they make it into South Jersey? They usually do not, but this is a very good set-up. Therefore, it is possible north of the Atlantic City Expressway.
Snow squalls are like thunderstorms, brief but intense. Whiteout conditions are common as they can drop a quick inch.
Thursday will then be a mostly cloudy and close to seasonable day. Highs will be in the upper 40s, under full force of the high pressure.
A reinforcing shot of cold air will then move in Friday into Saturday. Highs will be in the low to mid-40s, more like January than mid-March.
The warmest day of the weekend looks to be Sunday. A mostly sunny day with highs in the mid-50s will feel pretty good. We drop a few degrees Monday, but keep the sun. Then, another nor'easter. Yes, another nor'easter, lurks mid-week.