Even though the turkey hasn't been put on the table yet, snow season, and the winter of 2018-19, can be considered here.
"Once we transition out of the mowing and sweeping, we start thinking about what a winter forecast might say," said Greg Brookins, Atlantic County Public Works director. "Close to Thanksgiving, we have our spreaders ready and are looking at the plows."
AccuWeather forecasts a mixed winter for South Jersey, likely starting out drier and warmer in December but growing stormier in 2019.
The active storm track for January, February and March will come down to 24 to 48 hours before a storm. The question will be, do storms develop late enough to put the milder ocean water on land, or early enough to draw in the cold air? Storms that transition from snow to a wintry mix or rain could be common.
However, it may end up that southeastern New Jersey winds up about the same in the snowfall department. Snow lovers will likely want to flock to the Interstate 95 corridor, away from the ocean.
Winter is firmly in the rearview mirror. Now that we can look back, data shows South Jersey …
First, it is important to note that average snowfall totals need to be taken with a grain of salt. One snowy nor'easter can bring the annual average amount of snow in one storm. While the northern half of the state is virtually guaranteed measurable snow on a yearly basis, that is not always the case in southeastern New Jersey. Atlantic City International Airport has had two winters in recorded history with an inch or less of snow. Cape May has had three, including a 1972-73 season with zero measurable snow.
One of the major forecasting tools used in seasonal forecasting is the El Nino Southern Oscillation. ENSO takes into account how much warmer or cooler ocean waters are in the equatorial Pacific Ocean, off South America. Warmer than average temperatures equate to an El Nino, while cooler than average temperatures equal to a La Nina.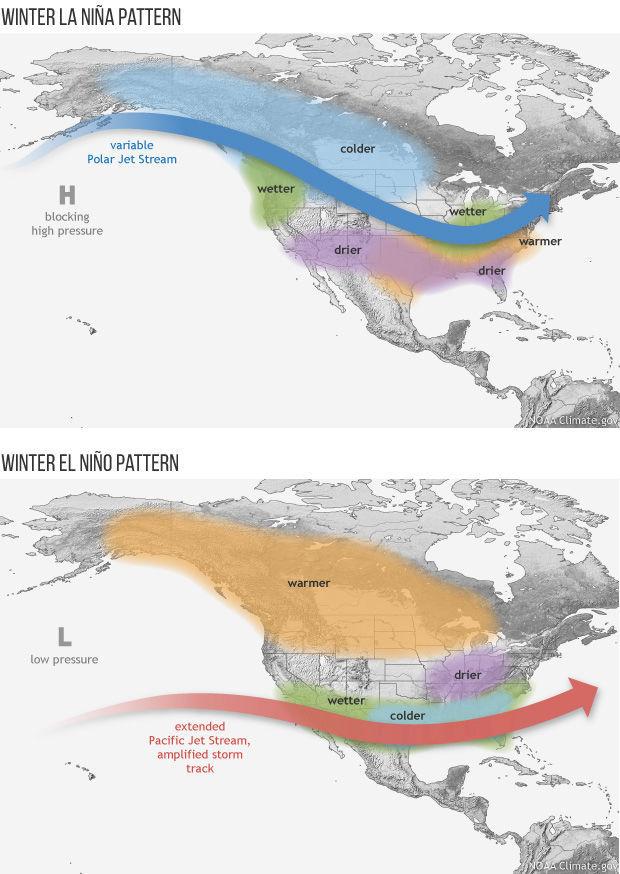 Over the past two winters, we experienced La Nina conditions.

The National Oceanic Atmospheric Administration says there is a 70 percent to 75 percent chance of an El Nino developing this winter. In an El Nino setup, an active, strong jet stream runs along the southern tier of the country. That brings wetter, cooler conditions to the Deep South and close to South Jersey.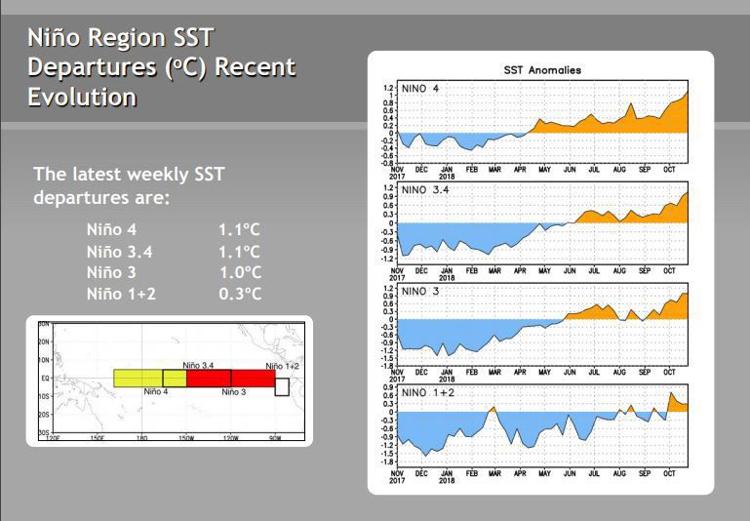 ENSO alone does not tell the whole story for the East Coast, though. Snow pack in certain parts of the world also plays a role.
As of Nov. 8, snow pack is running above average for a wide swatch of central and eastern Canada. This was already seen on the weekend of Nov. 10-11, when temperatures ranged 10 to even 15 degrees below average.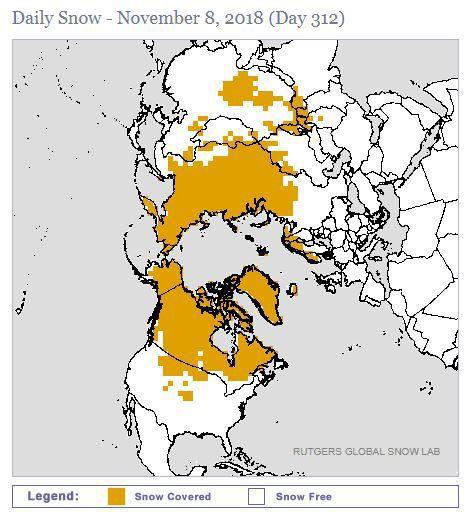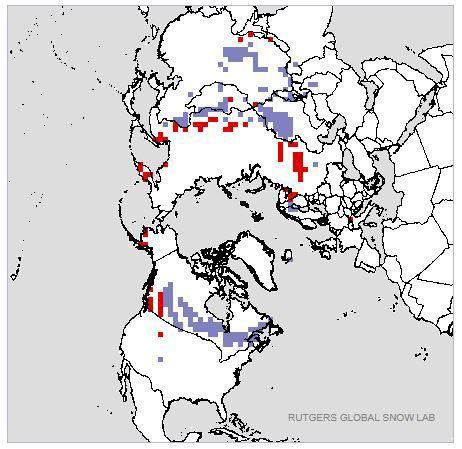 Ocean temperatures in other parts of the world also play a role. Dave Robinson, the New Jersey state climatologist, said extremely warmer than average waters in the Gulf of Alaska will have an impact.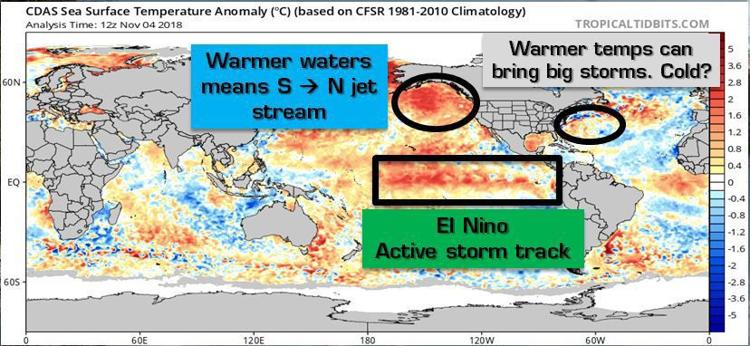 The jet stream, the river of air that separates warm air to the south and cold air to the north, will likely make a sharp turn north to Alaska as a ridge before sharply turning south.
The amplified pattern would bring the jet stream north, which carries many storms, near the East Coast.
"You get these periodic outbreaks of cold air (in a sharp ridge and trough pattern). In a flat ridge, it wouldn't be as severe," said Jim Eberwine, retired National Weather Service forecaster.
However, many of the nor'easters that impact South Jersey start nearby. That is where the clash of water temperatures off the mid-Atlantic and southeastern coast come into play.
So far in November, water temperatures have run on the warmer side. This can lead to rapid storm intensification, or a meteorological "bomb," close to home.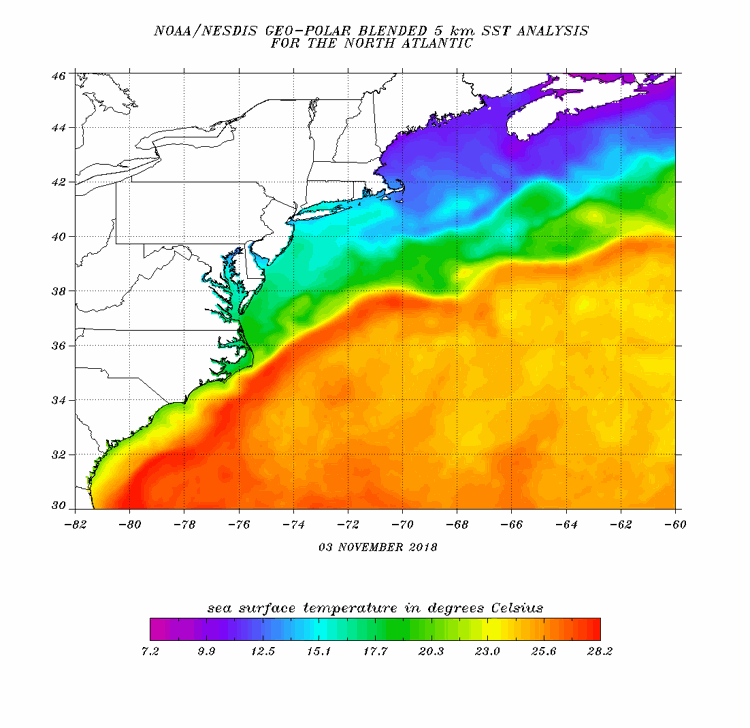 "When you used to get these cold air outbreaks, usually you'd see your strongest temperatures gradients in North Carolina and you could track the storm from there. However, the cold air is rushing into the warmer ocean temperatures further north now and you get these rapid-intensification storms right by us," Eberwine said.
It also impacts the coastal flooding we see in the region.
"Based on what we have seen recently, we'd get these sharp but short-lived coastal flooding events," Eberwine said.
The warmer water may provide more fuel for a storm to develop and generate its own cold air. Stronger northerly winds on the backside of the storm would drag more frigid air in from Canada, making it a white, not wet, storm.
On the other hand, those mild waters can waft over to South Jersey, providing the opposite.
How that plays out will only be known on a storm-to-storm basis, or if there's a consistent signal early in the winter.