On Nov. 15, snow crippled traffic in the northern half of the state, as well as the Philadelphia suburbs. Some of The Press' towns saw a few flakes from this, too.
On Dec. 5, an "inverted trough" covered much of The Press coverage area with its first flakes, and then some, of the year.
Lake-effect snow showers and other little systems have peppered the state, bringing additional opportunities for snow.
However, there is still one region of New Jersey that has yet to see a flake fly, representing the one "snowhole" for the state. Some might consider it being in the right spot, while others call it bad luck.
An area from near Toms River and Seaside Park up the Garden State Parkway and Route 35 to about Long Branch has yet to see snow this winter, information from the National Operational Hydrologic Remote Sensing Center shows. For those south of the canal in Cape May County, it's true that no accumulating snow has fallen. However, the NORHSC map does show that at least some flakes have fallen in Lower Township, West Cape May and Cape May. A trace of snow was reported in Wildwood Crest on Dec. 5, which was likely enough to fill that whole region in with snow.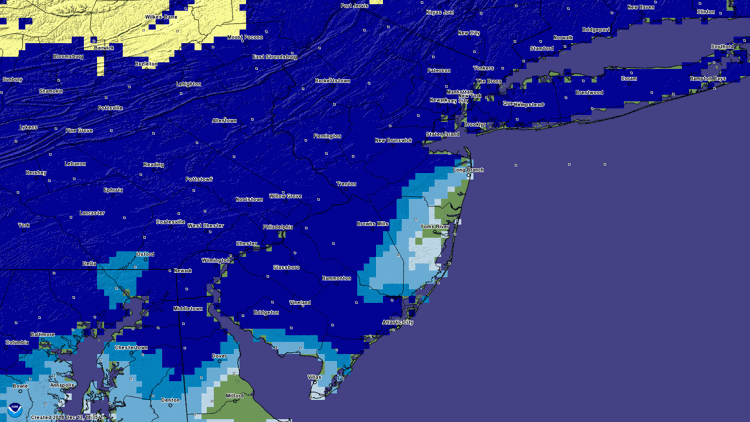 The area of Monmouth and Ocean counties in question was too far east to see the rain change over to snow in November. It also missed out on the "South Jersey Snow Special," a 60-mile-wide area of snow that pivoted in on Dec. 5.
There have been other opportunities for at least a coating of snow, such as Wednesday's nuisance snow. However, they were too far south, again.
The next opportunity for snow is Sunday, when some flakes may mix with rain at night. If not then, it may be a while.
After three and a half months of South Jersey Snow Specials, the South Jersey Snow Sweepstak…