Out of all the days this week, Wednesday will bring the highest coverage of showers and storms. That will help to chip away at a rainfall deficit that has been growing throughout the month.
As of Monday, Atlantic City International Airport was 0.52 inches below average for rainfall in June, Sen. Frank S. Farley Marina in Atlantic City was 1.08 inches below average, while Millville Executive Airport was 1.30 inches below. It's not severe, but it's enough to brown our lawns and require constant watering of our gardens and farms.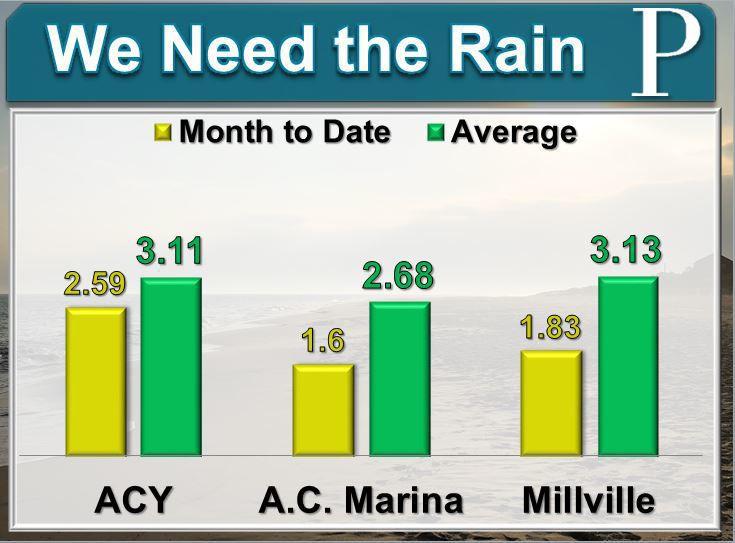 Most of us were left dry Tuesday, as expected. However, Wednesday should bring rain to a good amount of us. The potential for a shower will begin as early as 7 a.m., as a closed low pressure system that's been in New England all week will drift closer to us.
Shower and storm coverage will be few and far between for the morning, with temperatures starting out between 65 and 70 degrees.
Then, from 3 to 9 p.m., expect scattered storms. Outdoor plans could be OK if you need to do something quick. However, an all-day beach plan or work project will likely be out of the question, especially in Ocean County. High temperatures will generally be 80 to 85 degrees.
Often during the spring and summer, you'll hear a Meteorologist say "isolated", "scattered" …
A shower or storm will linger overnight, until around 4 a.m. Then, westerly winds should dry us out and give us clearing for the morning. Low temperatures will be in the upper 60s on the mainland to around 70 along the shore.
The heat will tick up as storm activity ticks down Thursday, as that low pressure system moves out to sea. Expect a dry morning, as we will reach the 80s by about 10 a.m. Isolated thunderstorms will flare up around 2 p.m. Like Tuesday, most will be dry, and I wouldn't change most outdoor dinner plans or work activities.
Then, we enter Fourth of July weekend. I believe many would agree a dry and warm weekend is best, and we'll be mostly there.
Friday will be the driest, and hottest day of the holiday weekend. We'll sizzle, with a mainland high in the low 90s. The shore will get sea-breeze relief, staying in the mid-80s. Expect the strong early July sun to make the sand pretty hot, but the water will be good to hop in to.
A back-door cold front will come in from New England early Saturday. That will bring cooler air and likely a few shower and storm risks. However, this will be highly dependent on its location. For now, expect seasonable 80s for highs and just isolated p.m. thunderstorms. Most of your day will be dry and any fireworks displays should not be delayed. However, it will be possible that Saturday winds up completely dry. I'll be tracking it.
Also, our weekend shore summer report card continues. I'm grading last weekend a B+. It was solid. Though, it was a little cool on the sand Saturday with some dodging a weekend shower.
Colorado State University increases hurricane numbers in June update
A slightly more active hurricane season is now expected for the 2020 Atlantic Hurricane Season, coming off the heels of two named tropical systems in May. 
On June 4, Colorado State University provided their annual update to the initial hurricane forecast, which was first done in April.
We have slightly increased our forecast for the 2020 Atlantic basin hurricane season and believe that the season will have well above-average activity," the CSU report read, which is led by Philip J. Klotzbach, Michael M. Bell, and Jhordanna Jones. 
CSU has chosen six analogs for its June seasonal #hurricane forecast: 1995, 2003, 2008, 2011, 2013 and 2016. Five of those six seasons were active, while 2013 was much less active than anticipated. pic.twitter.com/fu7BCRsMtT

— Philip Klotzbach (@philklotzbach) June 4, 2020
Including the storms that have already been named at the time of the update, Arthur, Bertha and Cristobal, CSU forecasts 19 tropical storms or hurricanes to occur. Out of the 19, 9 are forecasted to be hurricanes, with 4 major, category three or higher (sustained winds over 111 mph), hurricanes. 
The initial forecast called for 16 tropical storms or hurricanes, with 8 hurricanes and 5 major hurricanes. This is about the 1981-2010 average of 12.1, 6.4 and 2.7, respectively. 
There still remains an above average risk of a major hurricane making landfall on the East Coast of the United States, including the Florida Peninsula. The 46% chance is virtually unchanged from the 45% in the initial, April, forecast. On average, there has been a 31% probability in the last century.
CSU attributes warmer than average waters in the subtropical Atlantic Ocean, slightly warmer than average waters in the tropical Atlantic as reasons for the active forecast. Furthermore, a possible transition from a netural El Nino Southern Oscillation to a La Nina late this summer would promote an an active season. In a La Nina, there's a lack of wind shear, or change of winds with height, which can rip storms apart.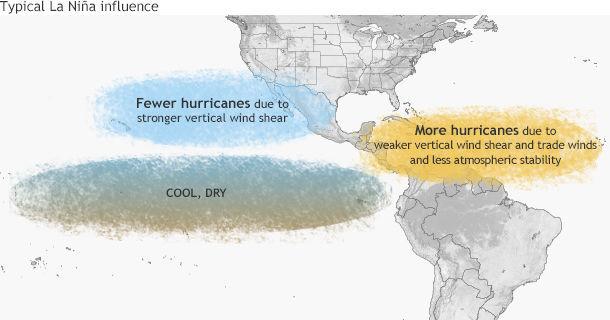 Tropical cyclone names rotate every six years. Exceptionally notable hurricane names, such as Sandy, become retired by the World Meteorological Organization. However, no names were retired in 2014, meaning 2020 will have the same list as then.
Arthur - Used
It's the sixth year in a row that a named tropical system has developed in the Atlantic Hurricane Basin before the June 1 official start.
Bertha - Used
Tropical Storm Bertha is the second tropical storm or greater storm to have formed in the Atlantic Hurricane basin before the official start June 1. This is only the sixth time since records have been kept in the 1700s that two tropical storm or greater storms have formed before the start. 
Even though the official start to the Atlantic Ocean hurricane season is June 1, May has not…
Cristobal - Used
Dolly - Used
Dolly was the third earliest fourth named (D storm) storm in Atlantic Hurricane history, which goes back to 1851.
#Dolly has formed in the North Atlantic - the 3rd earliest 4th Atlantic named storm formation on record (since 1851). Danielle is earliest on 6/20/2016. Debby is 2nd earliest on 6/23/2012 at 12 UTC. Dolly in 2020 formed on June 23 at 1615 UTC. #hurricane pic.twitter.com/1Ha6ZnxHqc

— Philip Klotzbach (@philklotzbach) June 23, 2020
Edouard
Fay
Gonzalo
Hanna
Isaias
Josephine
Kyle
Laura
Marco
Nana
Omar
Paulette
Rene
Sally
Teddy
Vicky
Wilfred