The weather won't impact any holiday festivities for much of the weekend as high pressure will dominate. Beyond that, more details have emerged on the coast-to-coast storm that will be near us late Sunday into early Monday.
Wednesday's storm was only 60 miles measured from north to south — small compared to your ty…
Residual patches of black ice will be around Friday morning, but that will be the only weather hazard. Temperatures early Friday morning range from the mid 20s (even a few low 20s) on the mainland where snow's present, to around 32 on the Cape May County shores.
However, sunshine will be plentiful Friday morning. As we go throughout the day, it will mix with a few fair weather clouds. High temperatures will be around 40 degrees throughout the region.
While the days continue to get shorter and shorter as we approach the December 21 winter sol…
If the lack of snow keeps you away from getting in the holiday spirit, hopefully the temperatures will do the job. By the time we get to next Thursday, 10 of the 13 December days will have been below average. It will not have been an extreme cold, but rather a consistently slightly below average chill.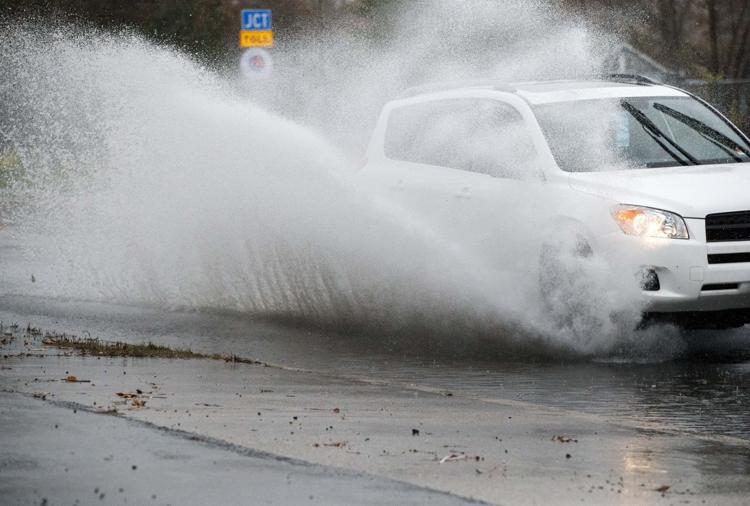 Fun fact — Friday will be the midway point of the earliest sunset of the year. In Mays Landing, that time is 4:35 p.m. That sunset time lasts from November 30 to December 14, putting us at the halfway point. That will be a beacon of hope for those who do not like the shorter days.
If you are heading out Friday night, you will need an extra layer or covering in addition to the jacket. Temperatures will drop below freezing quickly after dark. Under a mainly clear sky, lows will only be in the upper 10s in parts of the mainland! The shore will be in the mid-20s.
Those who need shelter from the cold in Atlantic County are welcome to use county resources …
Saturday will be dominated by sunshine, which will fail to rise the thermometer much. Highs will sit in the upper 30s.
Sunday morning will be another bright and cold start. Full attention then will turn to what happens at the tail end of the weekend into Monday. In what has been deemed a coast-to-coast storm, a strong low pressure system will move through the Southeastern United States. Call that our southern system.
Meanwhile, a piece of energy will be somewhere in the Northern Plains. Call that our northern system.
Learn firsthand what this winter has in store for South Jersey with Press meteorologist Joe …
How these two interact will ultimately determine the storm's direction. I still like my thoughts on Sunday afternoon into Monday morning this Friday. At worst, we will capture the northern part of the storm in Cape May County. I introduced a Sunday afternoon to Monday morning wintry mix to the graphics. Think of it as a minor impact event for you there if it materializes, with a mix of rain/snow showers that doesn't bring too much accumulation.
Computer models on Friday morning are consistent with keeping it a near miss for South Jersey.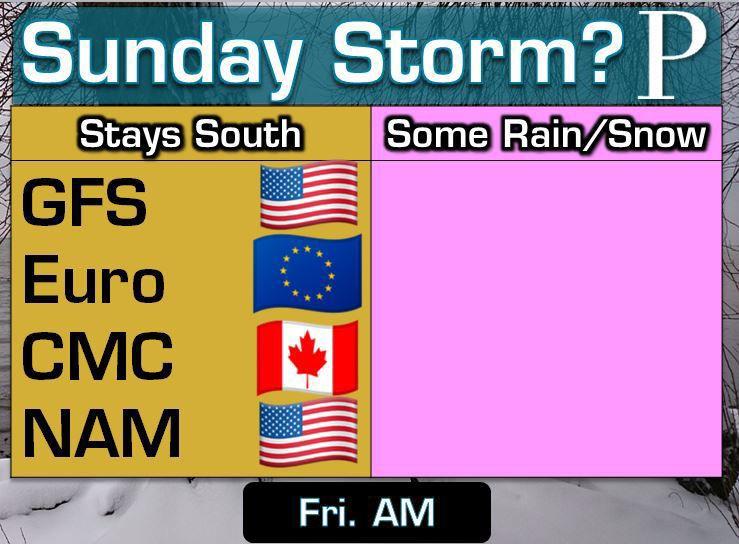 Regardless, minor flood stage will be a concern at the shore for parts of Sunday and Monday.
Coastal flooding will always be a concern, and that concern has steadily increased in recent…
Expect a bit less chill next week! Tuesday through Thursday all look to be dry, as temperature climb into the 40s. 50s will be likely on Friday, but rain comes back to the forecast.