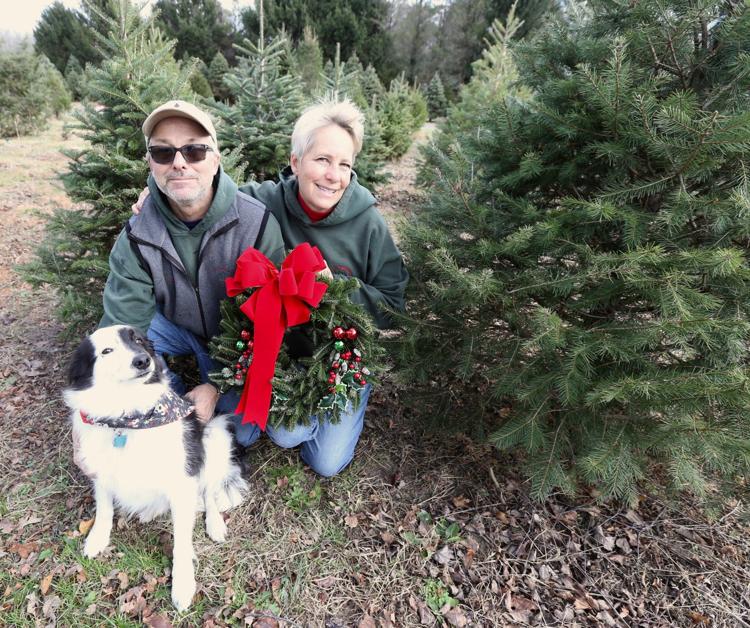 December was behaving itself, until the last ten days of the month brought a mild holiday treat to close out 2020 (1:04) according to New Jersey State Climatologist Dave Robinson and Meteorologist Joe Martucci. 
It was a very wet start to the month, but not much snow fell. Snow wound up well below average, but that's not unusual (3:05). Afterwards, Robinson explains why you don't need snow to fall for a White Christmas (4:50).
Once the month's weather review was wrapped up, Martucci and Robinson compare their notes on the Top 10 weather events of 2019 (9:39). Martucci and Robinson both have the very active tornado season in the 2 spot. Martucci then finished off the podcast by asking Robinson what he's most looking forward to in the climate world in the new decade (15:59). 
10 - Strong winds tear through on Feb. 25
A potent cold front passage brought one of the strongest wind events of the year to South Jersey Feb. 25. High wind warnings went into effect as Fortescue gusted to 57 mph, Harvey Cedars to 53 mph and West Creek to 51 mph that day. 
Damage and power outage reports were widespread that day. A tree fell onto the Garden State Parkway near 44 in Port Republic, blocking one lane on the Parkway.
In Vineland, downed wires fell onto Route 47, just a minute before a tree fell onto Route 322 Eastbound at Weymouth Road, closing the road. 
Over a thousand customers were without power as the winds whipped during the day. 
We saw it all: February 2019 Weather Roundup
9. January's temperatures, precipitation were closest to average in years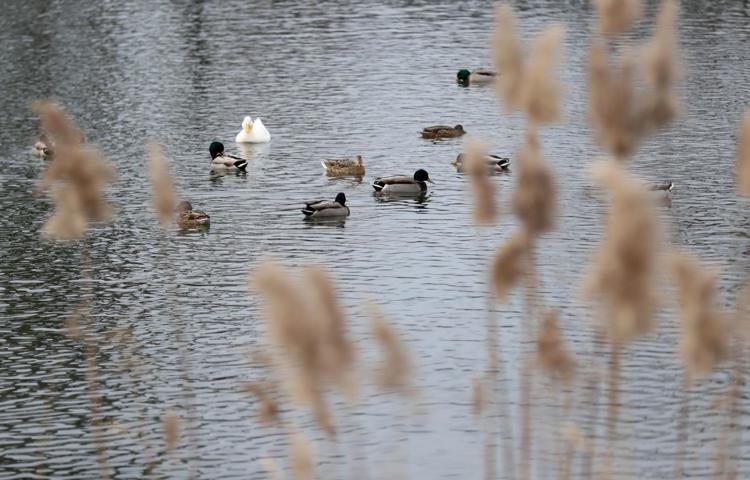 In the words of New Jersey State Climatologist Dave Robinson, temperatures were "dead on average" for January of 2019 to the 1981-2010 climate period.
Atlantic City International Airport's monthly temperature was an exactly 33.0 degrees for the month, a 0.0 degree temperature departure, which has not happened in ten years.
It wasn't just temperatures that were spot on seasonable, either. The month also included 3.74 inches of rain and melted snow at A.C. Airport, a little above the 3.22 average for the month. and Sen. Frank S. Farley Marina in Atlantic City was just 0.06 off the median for the month. The last time the total January precipitation was that close was 1988, 0.01 inch shy of the 3.08 inch median.
So average, it's special: January 2019 Weather Roundup
8. South Jersey soars to 100 degrees July 21

For the first time since 2012, the thermometer reached 100 degrees at Atlantic City International Airport.
On July 21, the temperature reached triple digits, breaking the daily record of 99 back in 1981. 
Unique about this blistering heat was where temperatures hit the century mark. Seaside Heights, Sea Girt and Point Pleasant, sweltered in 101 degree heat. Located in coastal communities, the lack of sea-breeze influence on the temperatures is uncommon. Even on days where there is a lack of a sea-breeze influence, to see shore towns hotter than the climatologically hotter urban locations in the state was rare. 
7. Flash drought grips area for five weeks in September, October
A five-week stretch of dry weather brought drought conditions to South Jersey for the first time since the Spring of 2017. Drought conditions peaked on Oct. 15, when 37% of New Jersey was in the moderate category, technically the first stage of drought.
Moderate drought is seen every 5 to 10 years, on average, according to New Jersey State Climatologist Dave Robinson. 
6. Seven consecutive coastal flooding events shake the shore from Oct. 9-12
The first nor'easter of the season took a large bite out of area beaches as it nearly stationary a few hundred miles offshore.
Despite the sunny at times conditions, seven consecutive cycles of coastal flooding ripped apart parts of the shore between Oct. 9-12 at tide gauges in Ship Bottom, Atlantic City and Sea Isle City, longer than usual for a nor'easter. 
Three of those high tides, Thursday evening, Friday morning and Friday evening, were in moderate flood stage, which can bring damage.
The ocean penetrated through the dunes at Seaview Avenue in Strathmere and 10- to 12-foot cliffs were seen along the shoreline in Avalon. 
The beach erosion in Avalon, Strathmere and North Wildwood was significant enough to have the Cape May County Office of Emergency Management request the state to evaluate the assessments by the county towns for potential federal funds from a declaration of a disaster, said Martin L. Pagliughi, county Emergency Management coordinator at the time.
5. 2019 likely one of the six warmest years on record
Year to date through Dec. 25, Atlantic City International Airport has had an average 2019 temperature, taking into account high and low temperatures, of 56.6 degrees. That is the fifth-highest on record and 0.6 degrees shy of the 2011 record. Given the forecast through New Years Eve, 2019 will either remain in sixth place, or possibly slip to number 7.
While record heat generates headlines, the steady warmth in 2019 made its way into the history books as well.
The airport registered 132 consecutive above 70 degrees from May 26 to Oct. 4. That beats out the old record of 119 set back in 2008. 
Well above average temperatures are no surprise given the changing climate. Seven of the warmest 10 years on record have been in the 2010s and eight of them have come since 2000. According to Climate Central, about 75% of all temperature records set this decade has been for hot, not cold temperatures, which is higher than any decade since records were kept in the 1940s.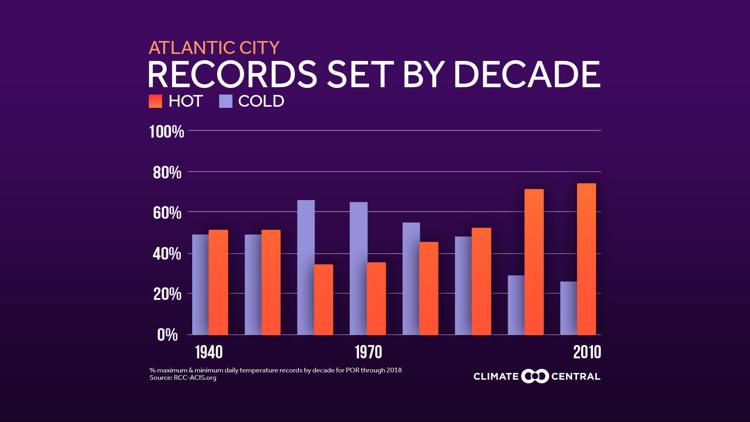 How Climate Change is Impacting Atlantic City
4. Before it hit 100 degrees, that July 21 morning only dropped to 82 degrees, a record.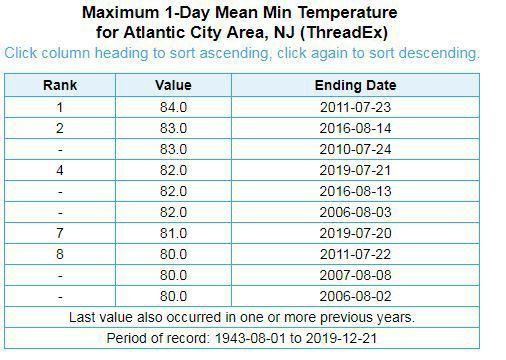 With a day as hot as July 21, you're usually starting off with an extremely warm morning. 
That was the case before the 100 heat was reached. A record maximum low temperature of 82 degree was seen, only the sixth time that a low temperature has been that high since records were kept.
3. Stafford Township gets double deluge of rain on July 6 and 18
Stafford Township was picked on by Mother Nature to be the recipient of not one, but two flooding rain events.
The first was July 6.
Strong, slow moving thunderstorms dropped 5.70 inches of rain in one rain gauge that afternoon. Traffic snarled on the Garden State Parkway and traveling to and from Long Beach Island. Stafford Township Police Department 
The second occurred just under two weeks later, on July 18. The remnants of Hurricane Barry dropped 5.50 at the same Stafford site. According to Dave Robinson, the New Jersey State Climatologist, a 5.00 inch plus rain total in that short amount of time may have only had a 0.2% chance of that happening. 
Triple digit heat and a foot plus of rain: July 2019 South Jersey Climate Roundup
2. 2019 winds up with second most N.J. tornado touchdowns on record
New Jersey became a mini-tornado alley during the spring, summer and fall , with 9 confirmed tornadoes in the state in 2019. 
That is tied for the second most tornadoes in a year since records were kept in 1951, according to New Jersey State Climatologist Dave Robinson. The first was a whopping 17 in 1989. 
Only one tornado touched down in The Press of Atlantic City's coverage area. On Aug. 7 at 6:40 p.m. a weak, EF-0 (the Enhance Fujita scale goes up to EF-5) tornado touched down in Millville, in a field of solar panels next to the Millville Sewer Department Facility. It then went into a wooded field, snapping one tree and damaging others. No injuries or death were had. 
Earlier in the year, a water spout, spawned up on May 28 and was captured by the Bonanza II fishing charter near Fortescue. Similar to a tornado, a water spout is a rotating storm, though it rotates water and does not count as a tornado officially.  A tornado warning was on the storm in Cumberland County before it went offshore. 
The second most tornado warnings since records go back to 1986 were issued by the National Weather Service office in Mount Holly, which covers South Jersey, according to the Iowa Environmental Mesonet.
It was active for more than just tornadoes, too. 274 severe thunderstorm warnings were issued. That is the most in the 33 year period of record.  
1. South Jersey roasted in 96 degree heat, in October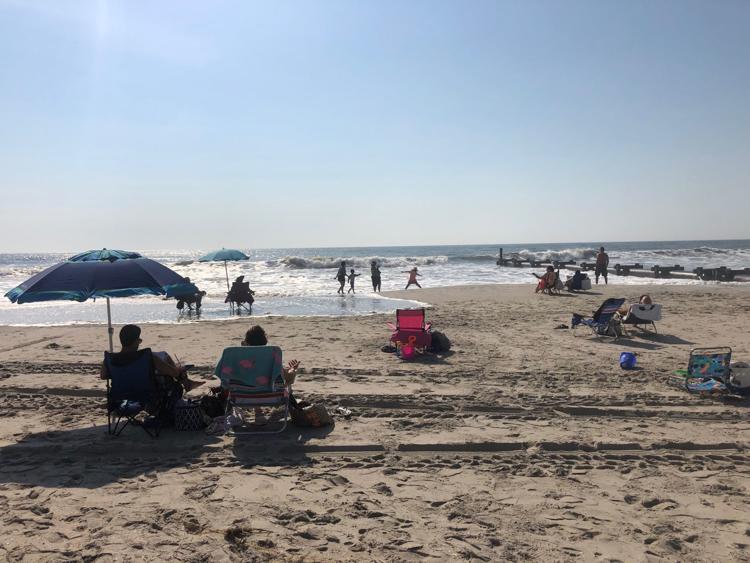 The biggest weather event of the year was heat, but not when many would expect it.
On Oct. 2, a large ridge of high pressure and strong southwesterly flow brought the thermometer up to 96 degrees at Atlantic City International Airport. Millville went up to 97 degrees. Locals summer September spilled over into the tenth month of the year.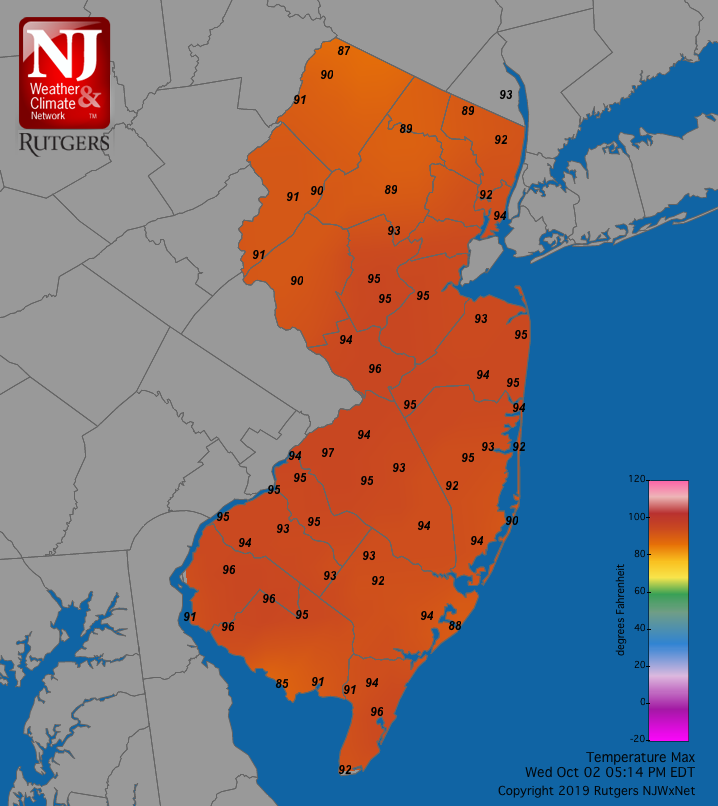 The previous record high of 85 degrees at A.C. Airport was broken at 11:35 a.m. The daily record high temperature was obliterated by 11 degrees, the biggest margin of defeat since Feb. 4, 1991.
The monthly record was smashed by 6 degrees; the last time that believed to be the case was June 1969, according to Sarah Johnson, Meteorologist for the National Weather Service in Mount Holly. 
The 90-degree reading was also the third latest 90-degree day on record. 
Flash drought, first freeze: October 2019 South Jersey Climate Roundup
VOTE: What's your top weather event of 2019?