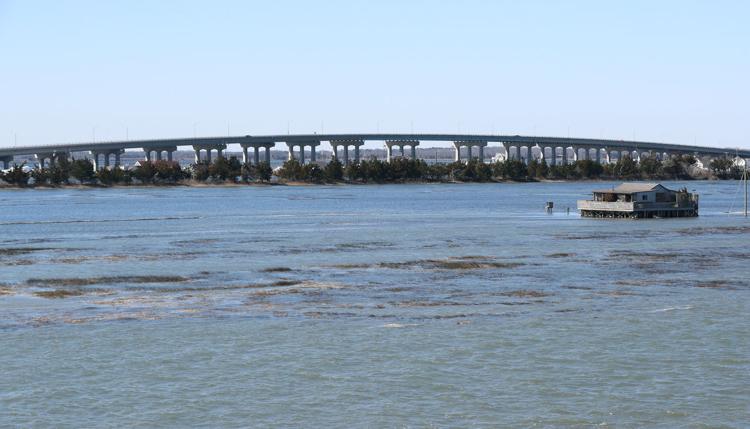 ATLANTIC CITY — The new Stockton University Atlantic City campus and South Jersey Gas headquarters, which are expected to revitalize the resort with thousands of new students and workers, sit at the foot of one of the most frequently flooded roads in Atlantic County.
City officials have been lobbying the state to raise parts of Route 40, also called the Black Horse Pike, to prepare for the influx. And the state has a $9 million plan to improve drainage and possibly raise some of a three mile-stretch between West Atlantic City in the township and West End Avenue in the resort, but it's still in the design phase.
Flooded roads are a problem government officials in coastal communities are likely to see more of, and raising the streets is a logical response. Even so, officials here would do well to heed the lessons learned in Cape May County, which has spent decades elevating Sea Isle Boulevard into Sea Isle City more than 4 feet. Raising a causeway is costly, takes years and is full of surprises.
The section of Route 40 that floods regularly includes dozens of businesses, motels and hotels, Atlantic City High School and single-family and townhouse residences. There are also several roads that intersect the pike.
All that development would complicate road raising, said former Cape May County Engineer Dale Foster, who led the years-long Sea Isle Boulevard effort — due to be complete by summer 2020 — and has worked on several other road-raising projects.
The entry into each property has to also be raised to match the road's new elevation, said Foster.
ATLANTIC CITY — The resort can thank its great-great-grandparents for installing a major flo…
The Sea Isle project had only one business to hook into, a marina about two-thirds of the way between the mainland and the island, he said. There were no homes or other roads to consider.
"The contractor had to work two days in a row, 24 hours a day, in order to get access to (the marina) so we didn't cut off access," said Foster. "We will have the same issue this fall when we go to tie into the parkway entrance ramp. We will have to close the ramp down one night to tie in all the paving and bring it up in elevation."
And while there are two other entry/evacuation routes into the city — the Atlantic City Expressway and the White Horse Pike — only the expressway doesn't close regularly for high water.
The state Department of Transportation is planning improvements to a portion of the Route 40 causeway from milepost 60.4 near Athens Avenue in Egg Harbor Township to milepost 63.5 at West End Avenue in Atlantic City, said DOT spokesman Matthew Saidel.
More frequent flooding. Two hundred mph winds. Stronger hurricanes.
Saidel said the project is in the preliminary engineering phase, which should be complete by next summer. He could not provide information on how much actual road raising would occur and to what height. Construction is expected to begin during the summer of 2020, and more information will be available closer to that date, he said.
Egg Harbor Township has been asking the state to raise parts of the pike for years, trying to stem flooding of homes in its West Atlantic City section, and to avoid the expense of using police to close the pike at least 20 times a year, said Mayor James "Sonny" McCullough.
Sea Isle Boulevard had to be raised because it is the only point of entry and exit for Sea Isle City, Foster said.
It started with a small Federal Emergency Management Agency grant in the 1990s to survey causeway elevations and determine what was needed to get them to a height that could handle a 100-year storm.
Andrea Palermo's life has taken on the ups and downs of the tides she follows on her phone app.
That study found Sea Isle Boulevard would need to be raised on average about 4.5 feet, he said.
Around 2004, the county did preliminary engineering and an estimate of cost.
"The big takeaway was, it was going to be very costly," said Foster.
The project sat for a while, then design work and the permitting process took from 2011 to 2013, and federal financing was secured in 2014.
So far the construction costs are $13 million, Foster said, all paid for by the federal government.
There were bumps in the road at every step. State and federal agencies had to agree on mitigation projects to replace wetlands lost to the raising. Added height meant a wider profile and impact on wetlands near the road.
There was also an issue with ospreys. The county could not work within 1,000 feet of an active nesting platform from March 15 to Aug. 15, later changed to April 1 to Aug. 31.
The county wanted to avoid working in the tourist season, so that left late September through April 1 as a work window.
Marsh and utilities under the road provided extra challenges.
"Causeway roads are built over the meadows. You don't necessarily have good material underneath," said Foster. "Then you add additional weight, and it settles on you."
So contractors overloaded the ground to settle it rapidly, said Foster. "It forces the water out," he said.
South Jersey Gas put in a new high-pressure gas main at the same time.
"It took longer than expected," Foster said of the pipeline work. "We couldn't do the two projects at the same time. ... We had to have settlement of the material before we put the pipe in."
Many more roads in Cape May County will need a similar treatment soon, he said.
"It's going to be a necessity because of sea-level rise," said Foster. "Right now we are in the midst of addressing the area around the George Redding Bridge, which floods going into Wildwood. It's a much needed project, so we are not shutting down such an important causeway."
Even municipalities are raising roads.
Ocean City is spending tens of millions of dollars to raise roads, sidewalks and curbs in flood-prone areas. Currently workers are focused on First to Eighth streets, from Bay to West avenues. The lowest area around Third Street and West Avenue is coming up by 2 feet, said the city's manager of Engineering and Construction Roger Rinck.
Pumping stations are also being added.
The city would have liked to go higher in places, but "the significant limiting factor is how high properties are," he said. "You can't raise roads higher than properties."
Four nor'easters hit New Jersey in March, disrupting everyday life, flooding coastal streets…
He said most flooding there happens during a rain event at a higher than usual tide, when bay water overtops older, shorter bulkheads.
"Some streets are actually lower than stormwater in the bay," said Rinck. "Basically you are in a bowl."
Once it flows in, water can't go uphill to get out, he said.
Raising the roads keeps as much water as possible from coming into the streets, and pumping stations move the water that gets in out as quickly as possible, he said.
The newly raised streets will be above a typical high tide, but not above full or new moon tides, Rinck said.
The whole island could benefit to some degree by road and sidewalk raising, he said, but some areas are higher than others naturally. They include the beachfront and areas in the Gardens section at the northern end.
The city is committed to continuing with a lot more projects, Rinck said.