Ocean City is the kind of place where families come to make memories. Burying relatives in the sand … eating three times your own body weight in Manco's pizza … that time you finally managed to land a hole-in-one at Congo Falls Mini Golf (admit it, you cheated). Each year, millions of dollars are spent by vacationers who head down for a week or two of salt-kissed, sun-soaked relaxation, Jersey Shore style. And nothing says relaxation quite like kicking back by the water with a cold beer or a refreshing cocktail.
Of course, you can't get either of those in Ocean City. In fact, you would probably have better luck getting served a craft beer in a junior high school cafeteria. This town is drier than a pile of dead leaves in November.
Donuts aren't just a breakfast treat. As Danny DeVito says in "Other People's Money:" "Since…
So, what is one to do when you have had your fill of the boardwalk hoopla, the kids are diligently working their way through your last nerve and nothing but an increasingly stiff series of adult beverages will do?
Luckily, the borders of all entrances to Ocean City are crawling with boozy options.
"We stock up — big time," says Pat Kennedy, a Brooklyn native who finds her way to the Jersey Shore for a family vacation at least once a year.
"After three hours in a minivan packed with screeching kids, that liquor store is the equivalent of spotting an oasis in the desert. We always stop, grab a few bottles of wine and a week's worth of spirits and pretend that we've never heard of the concept of a 'dry town,'" Kennedy says emphatically.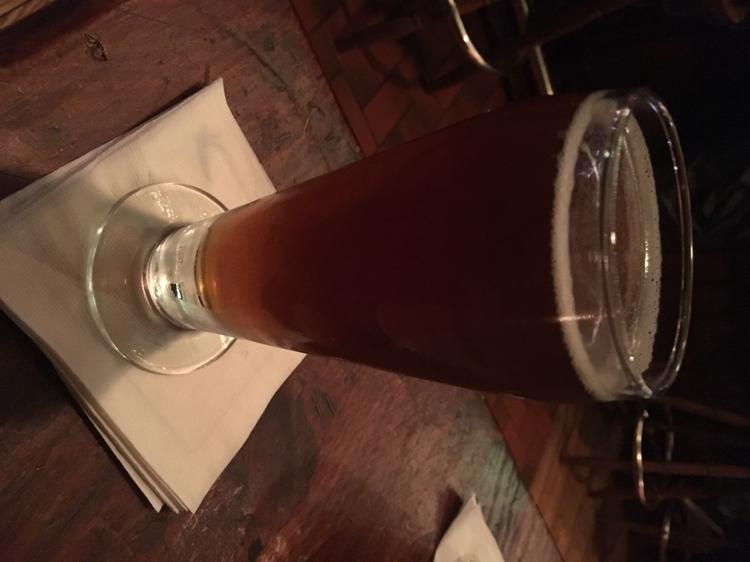 Kennedy is of course referring to the strategically placed Circle Liquors, which sits just beyond the bridge into the northern portion of Ocean City. It, along with its competition to the south, the ever-popular Super Liquors, each seem to have built their booming businesses on the fact that you can't get any booze in the O.C. In fact, both stores will even deliver to customers staying in Ocean City. Now that's a level of convenience that is tough to beat.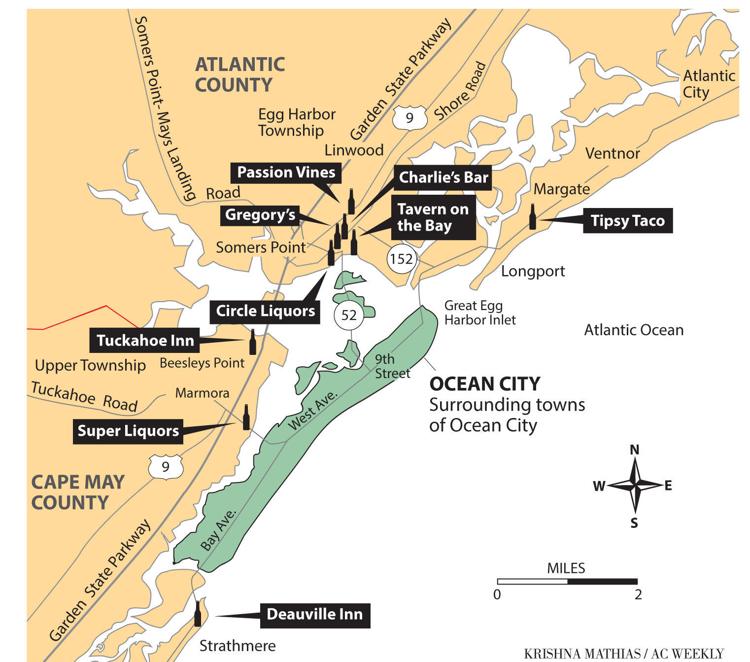 A night on the town … well, a different town, that is
While staying home and sipping freshly delivered cocktails from your deck is one way to let off steam, other vacationers prefer to take part in a more active nightlife, and that is where the local bar scene comes into play.
Since bars in Ocean City are about as common as Harvard grads at a tractor pull, folks here have to be willing to venture outside the city's borders to find the happening nightlife they seek out. With that in mind, we have put together a list of some great semi-local spots to grab a few drinks that are just far enough outside the city limits to be legal.
Deauville Inn: Tucked between Ocean City and Sea Isle in the town of Strathmere, Deauville Inn is a South Jersey institution. Located on waterfront property, this bar/restaurant has been in business for more that 120 years. It's not hard to see why either as its tranquil, yet lively environment (you can actually sit directly in the sand here at its beach) practically forces you to forget whatever stresses may be waiting back at home. Deauville Inn is located at 201 Willard Road in Strathmere. Go to DeauvilleInn.com for more info.
Tavern on the Bay: Somers Point's Tavern on the Bay provides stunning views both from its dining room and on its open-air decks, while delivering one of the best fine dining experiences around, courtesy of Steak-and-seafood-based menu. Those who prefer to travel by boat will be pleased to find that there are plenty of available boat slips out front, making it one of the top spots around both by land and by sea. Tavern on the Bay is located at 800 Bay Ave. in Somers Point. Go to TavernOnTheBayResort.com for more info.
Ocean City offers so much to see and do, that even if you spent the whole summer here, you m…
Gregory's Restaurant & Bar: Gregory's is about as unpretentious as a bar gets. The building it sits in has been there long enough to be haunted, and the comfortable, easy-going vibe makes you feel like a local. The crowd on weekends is jovial without being rowdy and if you are hungry they make one of the best burgers in all of South Jersey. Gregory's Restaurant & Bar is located at 900 Shore Road in Somers Point. Call 609-927-6665 for more info.
Charlie's Bar: Just down the road from Gregory's is Chalie's Bar. The two spots boast similar "no frills" vibes, but Charlie's claim to fame will always be their legendary buffalo wings which are among the best anywhere. They have a nice selection of beers to choose from as well, with a few local craft beers up for grabs. But it's cash only here so hit the ATM first. Charlie's Bar is located at 800 Shore Road in Somers Point. Go to CharliesBar.com for more info.
Tuckahoe Inn: Seated on the water's edge in Beesley's Point, The Tuckahoe Inn wears many hats, but does so with style. The restaurant is a great spot for a romantic evening, while the bar and outdoor deck feature nightly live music, and are lively and fun enough to grab your whole crew and make a (somewhat early) night out of it (they close at 10p.m.). Tuckahoe Inn is located at 1 Harbor Road in Beesley's Point. Go to TuckahoeInn.com for more info.
Tipsy Taco & Tequila: In the mood for something south of the border, but don't feel like driving far? The easy answer is a trip north to Tipsy Taco and Tequila Bar in Margate. Owner Johnny Liccio's newest Margate hotspot serves up some of the tastiest drinks in town including a constantly changing list of fresh margaritas. Tipsy Taco and Tequila Bar is located at 9401 Ventnor Ave. in Margate. For more info call 609-541-4133.
Passion Vines: While some might think of it as a simple liquor store, Passion Vines in Somers Point is so much more. While it's true that you can stock up on whatever liquor/beer/wines you might need (and even have them delivered if you don't feel like leaving the O.C.). This wine-geek paradise also features a bar stocked with craft beers and hard-to- find wines that is worthy of at least a few drinks. An added bonus is getting to learn a thing or two about great vino from the well-educated staff. Passion Vines is located at 265 New Road in Somers Point. Go to PassionVines.com for more info.
Friday's Pool After Dark party was a Dream
The-Dream performs at The Pool After Dark on Friday.
Photos: Tom Briglia/PhotoGraphics